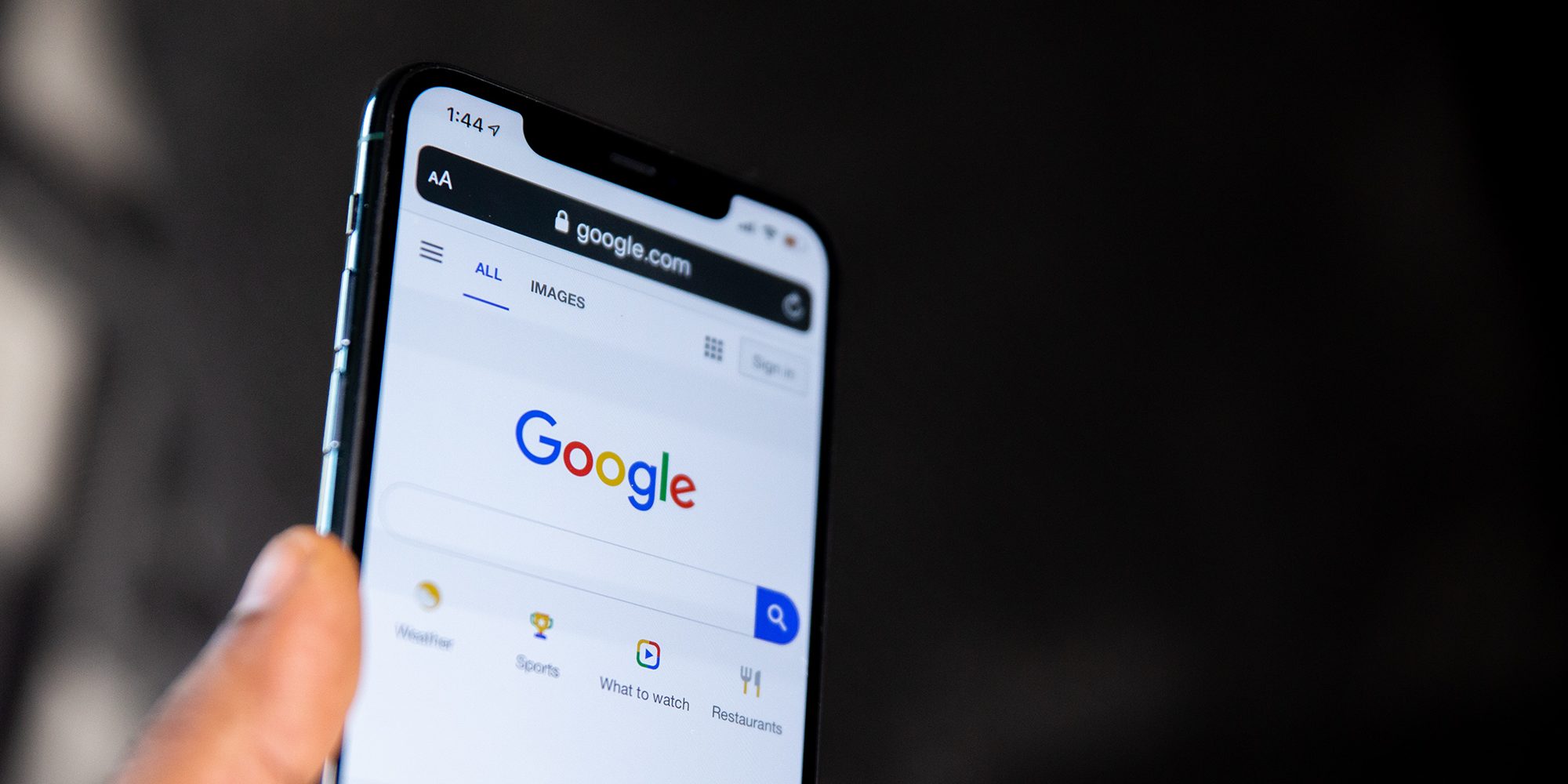 Taking a look at search engine success and ranking factors
What are the fundamental success factors for SEO when trying to reach those top spots in Google search results?
I could write so much on this (I can get overly nerdy) so I'm going to try and keep it simple. But, if you have any questions or comments, please don't hesitate to get in touch!
🤩  High-quality content & E.A.T
'Content is King' and all that! If Google doesn't see your page's content as useful to the user or you don't demonstrate you have the expertise or authority to gain your user's trust on the advice you're providing, it's no good.
Make sure to break your content into easily readable chunks with H2 subheadings (H3s as well if need be) and bullet points etc. Deliver value to your readers as easily as possible.
✅  Effective keywords
Your content should include well-researched target keywords. A good place to start is to think about what words or phrases users might search for when trying to find your page. Keywords tell the search engine what your page is about.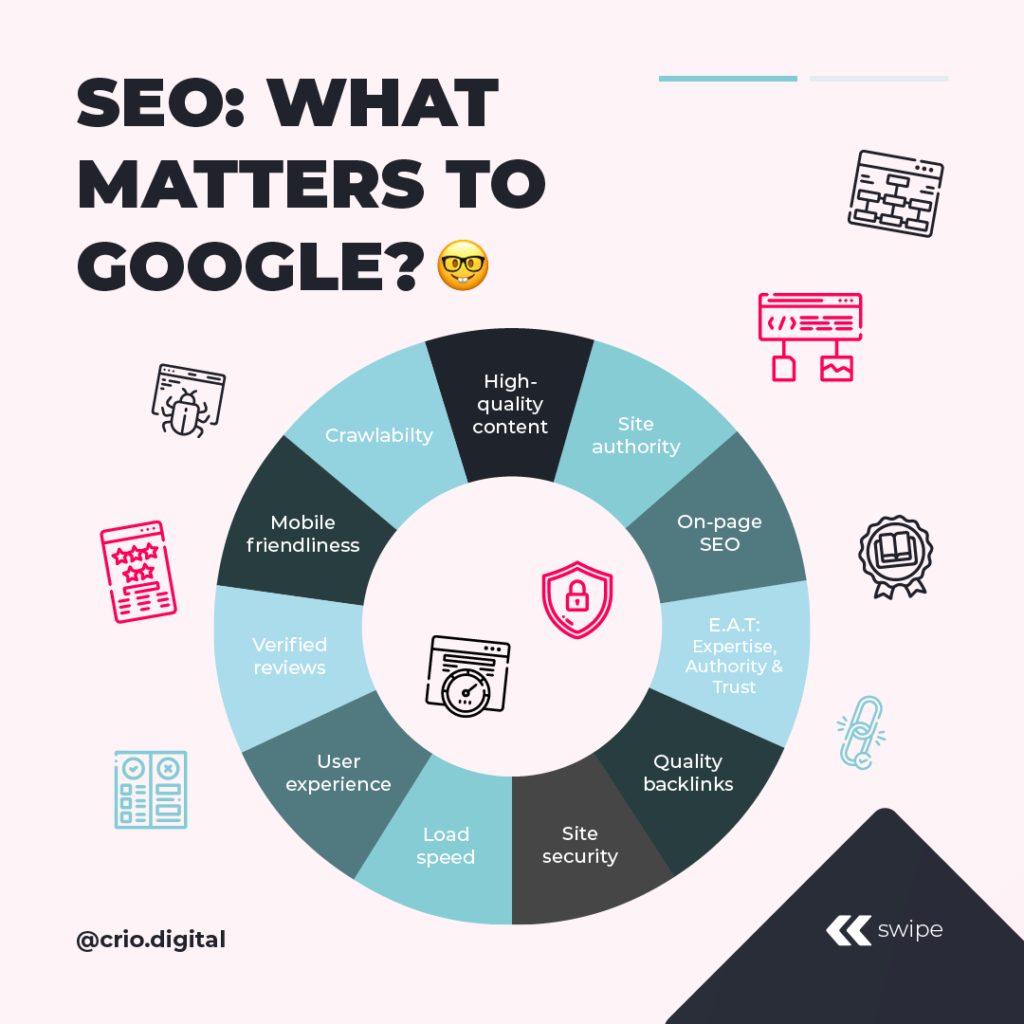 🖥 On-page SEO
Content doesn't just need to be high-quality, it also needs to be optimised for search engines. Start with this basic checklist for on-page SEO:
Choose one primary keyword for the page and 3-4 related ones

Include the primary keyword in your URL, title tag, meta description, and H1

Make sure internal links use effective anchor text

Include at least one image with a relevant alt text description

Don't force the number of keywords in your content (known as 'keyword stuffing')

Keyword synonyms for the win(!)
🔗 Useful backlinks
These are links on other websites that direct people to your site. When your site is consistently referred to by other quality and authoritative websites, Google recognises that the link is trusted. Such backlinks are even more useful if the linking website is following E.A.T guidelines.
🔒 Security
Payment gateway or not, make sure your website is secure using HTTPS encryption. Your SSL certificate will create a secure connection between your platform and your end-users and protects information that the users might provide to the site, such as passwords.
🕷 Crawlability
Crawlability ensures that search engines can find your site. Make it as easy as possible for search engine bots to crawl, index, and understand the content, products or service you provide. Use Google Search Console to help you discover any potential gaps or issues with your website that would prevent it from being crawled or indexed.
🚀 Load speed
Top-ranking sites in Google search results average a load time of fewer than 3 seconds. Google PageSpeed Insights should be a staple in your webmaster toolbox. However, don't allow yourself to get obsessed with getting a score of 100/100, factors such as the speed of initial 'perceived load time' can be more beneficial than the fully loaded time.
📱 Mobile-friendliness
You want to create a website that offers a user-friendly experience for both desktop, tablet and mobile users. It needs to be a fully responsive, finger-friendly design. The average website receives anywhere between 45-65% of its traffic from mobile. You're not going to want to miss out on those opportunities!
⭐️ Verified reviews
Whether this is through Google reviews, Trustpilot or even Facebook reviews, Google only wants to recommend the most credible and trust-worthy businesses to its users. What's more credible than a business that not only has an abundance of 5-star reviews but that also takes the time to respond to every review regardless of the rating. It's important to respond to all reviews in an effort to show both your customers and your search engine's commitment to customer satisfaction.
Other factors to consider…
There are few other points I debated putting in my SEO fundamentals image or 'wheel of magic' if you will, that are important but they feel either fairly conditional or need to work in conjunction with the previously mentioned above points:
🌱 Fresh content
Great for letting Google know you're keeping up with news/trends/topics but is only a positive if the content that you're publishing (not too) regularly is USEFUL, which goes back to the high-quality content and E.A.T first and foremost!
🧑🏼‍💻 User engagement 
You may have answered their question within the first 3 seconds on the page meaning there was no need for them to scroll to the bottom or interact with any links etc. Although, I would always recommend a few calls to action to keep them on the website if you can offer them more relevant content 👀.
TL;DR – the summary
The key success factor that I am consistently taking away from my reading or conversations over the last year or so is that it is all about the user! If you take a look back at all of these points, they all have one thing in common – the user.
If you continue to work on all of the above and keep your ideal user/customer/audience in mind at all times, I think you'll do just fine 👌.